JellyNeck Solutions, Inc Earns Better Business Bureau Accreditation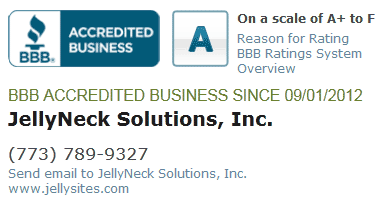 Chicago, IL – September 6, 2012 - Becoming an Accredited Business with the is an honor not accorded to all businesses; because not all businesses meet eligibility standards. JellyNeck Solutions, Inc is pleased to announce that it has met all BBB standards and is now an Accredited Business.
"Accreditation in the BBB is by invitation only" says Steve J. Bernas, president & CEO of the Better Business Bureau serving Chicago and Northern Illinois. "And only those businesses that meet our high standards, and pass the review process are approved by our Board of Directors."
As with all businesses that are Accredited by the BBB, JellyNeck Solutions, Inc has committed to the BBB Code of Business Practices. The Code is a comprehensive set of policies, procedures and best practices on how businesses treat consumers. These standards call for building trust, embodying integrity, advertising honestly and being truthful. Bernas adds "To maintain their Accreditation a business must be transparent, honor their promises, be responsive to their customers, and safeguard their privacy."
"We are proud to be a BBB Accredited Business," said CJ Jelinek, President of JellyNeck Solutions, Inc. "In today's world it is imperative that our customers know how seriously we take our commitment to excellence and good customer service. Our achieving BBB Accreditation exemplifies that goal"
JellyNeck Solutions, incorporated in 2008, offers consumers the best in web design and development. "Our desire is to stay focused on what we do best; provide outstanding products and unsurpassed customer service," said CJ Jelinek.
Dec 19, 2012
by